Friends First
---
AA Ringette Calgary continues to promote the spirit of the Friends First program, a past team-based campaign introduced by Hazel Skinner (see info below). Instead of a red lace on the right foot, our program champions the ideals of kindness and sportsmanship demonstrated on and off the ice, especially considering the high-intensity competition of AA ringette. Each team, each age division—plus coaches, managers and parents—are reminded that strong leadership combines both competition and sportsmanship, and that supporting each other elevates our game.
Please see our Friends First Highlights for this season's events.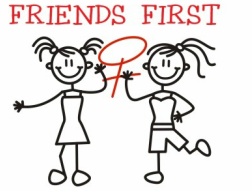 Friends First was a team-based campaign, inspired by Hazel Skinner, to teach young women to be kind, support one another and 'pay it forward.' Athletes on a team are encouraged to explore what makes them unique, and know that this diversity brings strength to a team. Female athletes are Unique, Beautiful, Confident & Supportive. Recognizing and encouraging these qualities provides a safe environment for a young woman to have the courage to explore her full potential.
A red lace worn on the right foot symbolized this campaign, to remind athletes to strive hard in all of their competitions, but remain 'Friends First' with everyone in their sporting community.
Hazel's aim was to eliminate negative competition between females and replace it with a powerful, inclusive Sisterhood that celebrates and embraces a young athlete's unique skills and attributes. Thank you Hazel, we're forever grateful for your influence!